New!

Bottle Opener Crab Mallets

The deep-rooted Chesapeake tradition of spicy blue crabs and icy cold beer inspired us to create the exclusive Bottle Opener Crab Mallet. Patented and
USA-made, this multi-purpose tool is crab feaster's best friend.

Crafted from rock maple that's solid enough to crack the most stubborn claws — and heavy-duty stainless steel that won't play favorites when it comes to caps — this keeper is ready to be personalized with your custom design, sentiments and Old Bay fingerprints.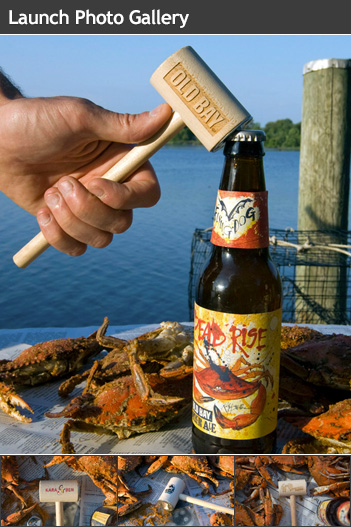 Read what our customers are saying about their Mallets
Average rating of
based on
62
reviews.
Crab Mallets w/Bottle Opener
Used for: Promotional items
I was super impressed with the quality of the mallets. They look amazing and I can't wait to give them out at our Chamber networking event!
Absolutely Terrific
Used for: A gift
This company is fantastic!!! From the initial ordering process, to the communication, to the custom design and then the finished product; they are nothing short of TERRIFIC. Even dealing with a back order situation, they remained on top of everything and communicated both the wait time and expected delivery date without any additional inquiries on my end! My sister absolutely loved these as her wedding gift! Thank you! I wish we could include more than one photo so you could see how great these are!
Love!
Used for: Promotional items
These turned out great! 10/10 recommend to others
Great quality
Used for: Promotional items
I purchased embossed crab mallets with bottle openers for our chamber of commerce's grand opening and new logo reveal. The logo looked great and the mallet was a cool giveaway for our guests.
Custom Crab Mallets
Used for: Wedding or party favors
Ordered custom crab mallets with bottle opener, with a company logo on one side and the MD crab on the other. The mallets were a success! Everyone loved them. Order shipped fast and arrived in plenty of time before my event.