Custom Crab Knives
Engraved crab knives—a perfect addition to Maryland crab feasts and corporate events. We personalize each knife with your logo, family name, or any other design. Your custom design will be permanently etched on the solid hardwood handle. Designed in Maryland by crab lovers, our knives feature a pointed stainless steel blade that makes crab picking easy. Paired with our custom crab mallets these knives will be a reminder of what Chesapeake summers have to offer.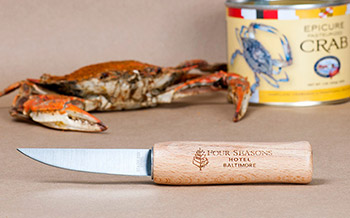 Read what our customers are saying about their Crab Knives
Average rating of
based on
22
reviews.
Custom crab knives
Used for: Wedding or party favors
These were the perfect addition to my son's wedding rehearsal crab feast! They were beautiful and functional. Nice quality. Thanks for your part in making a special wedding weekend!
Dennis n Donna crab knives and mallets.
Used for: Wedding or party favors
These are awesome. Thank you so much. I love them.
Great Company
Used for: A gift

Ordered custom printed crab knives. Love them! They are perfect
Crab Knives
Used for: Wedding or party favors
Absolutely perfect! Thank you for your quick turnaround and accommodating my request.